HVAC CK Series
Highly Configurable UVC Systems for HVAC applications
The CK Series is designed as a modular, highly flexible UVC kit for Air Handling Unit (AHU) installations. The kit is simple to install and can be configured to provide exactly what's needed for a wide variety of AHU installations. The CK Series is flexible enough to get everything you need and nothing you don't for almost any UVC application in an AHU. Standard configurations offer up to 16 lamps running from a single electronic enclosure. The CK Series can be supplied with standard, coated or double-walled cell lamps, based on requirements of the installation. The BMS option allows for lamp monitoring with relay output to a building's central monitoring system to ensure performance.
HVAC CK Series Features
Single control enclosure drives up to (16) lamp 36" or less (8 lamps up to 60")
Lamp lengths: 18, 24, 36, 48, 60"
Standard, shatterproof and double-wall cell lamps available all with proven, watertight lamp socket connection.
Multi-voltage, multi-frequency for worldwide operation
Main power switch and ballast on LED indication on front of enclosure
Lamp cables available in 8, 12 and 30-foot lengths
Easy to use mounting hardware utilizes snap-in lamp clips, allowing for tool-free lamp changes at end of lamp life
Optional reflectors (upstream mounting) for additional UVC intensity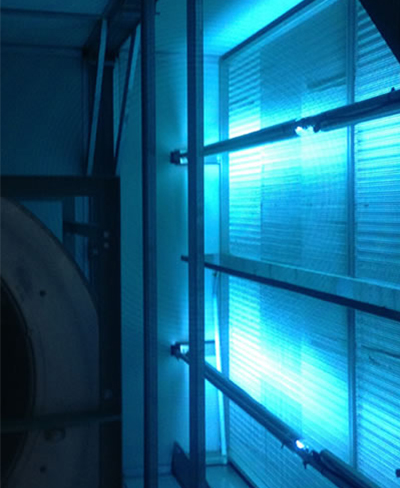 BMS option
The addition of one or more lamp monitoring boards to a CK enclosure allows remote monitoring of all lamps by external systems - such as a building management system - so CK system status is available without anyone having to go inside the AHU.
Refectors
Highly polished for maximum UVC reflectance, CK series reflectors are designed to increase UVC energy delivered to the coil and drain pan in upstream installations
Mounting Clips
Snap-in stainless steel clips on one side allow tool-free lamp installation and replacement while securely holding lamps. The other side of the clip is made to clamp around standard electrical conduit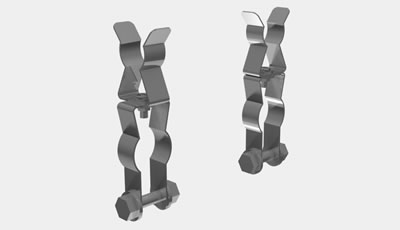 UVC Lamps
High Output, Low Mercury lamps are offered in 3 varieties for the CK series: standard, "shatterproof" coated, and doublewalled. All utilize a watertight connection to the incoming lamp power cable and are rated for 2 years of effective lamp life. Standard sizes from 18" to 60"